On the occasion of 10 years anniversary of Wirtland, Chancellor of Wirtland has made a short interview to
The Times of Wirtland.
Ten years have passed since you founded Wirtland. How can you assess the achievements?
We had our ups and downs, but most importantly, the influx of new people has never stopped during this 10 years period. Wirtland has survived and kept its attractiveness as alternative nation – that's our most important achievement. Also, we managed to preserve our neutrality, which was not easy in the times of fierce international turmoil.
Some witizens complain about lack of activity in Wirtland. Can you comment?
We see our main task to establish Wirtland as a platform, and to keep it up, running, and operational. That's what we have been doing successfully during the last decade. If level of activity is low that means that people are passive. Activities are now up to the citizens themselves – we just create the right conditions for them.
So, what should witizens expect from the government?
Wirtland was not set up to tax our members - we have a zero taxation policy. Wirtland was neither set up to entertain our members, by a regular flow of new initiatives and projects. We simply cannot afford this, because of zero taxation. I hope this is understandable. What we guarantee to citizens is the following:
Correct operation of Wirtland platform;
Full media support to citizens' initiatives;
Protection of citizens' personal data.
What should be done to further develop the Wirtland project?
We always need more people, and to achieve this we need better media support outside Wirtland. Yes, Wirtland has received quite good media coverage in the recent years, especially in Latin America and former Soviet countries. But most of the articles tend to be superficial. Journalists do not pay attention to the central question – why people all over the world are interested in alternative political identity? So, we are interested in publications about Wirtland and always welcome the media representatives from all over the world.
As Wirtland is not backed up by investors, we are always interested in making Wirtland economically self-sustaining. So, all business ideas are very welcome.
Finally, why did you decide not to disclose your real name?
Two reasons, which are very simple. I think that vanity of many self-proclaimed monarchs of micro nations is ridiculous, and by no means I want to be like them. Second reason is more important: We want Wirtland to be free from any nationalistic, racial, political, or other biases. But such connotations may occur from the real bios of founders. Simply speaking, we don't want anybody to attach labels to our project such as "Aha, so the founders are Chinese (or American, African, Jewish, Muslim, Slavic, etc)!" This is why our policy is to keep our personal life and Wirtland separate from each other.
Thank you. But can you disclose any general information, perhaps your age, gender? Does Wirtland have a First Lady?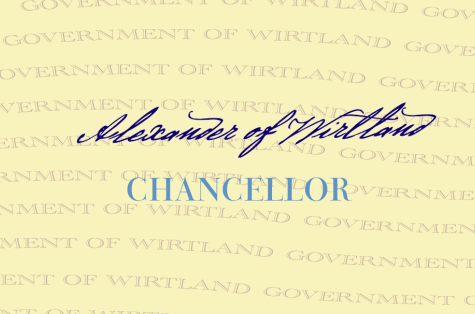 Well, I am 52 years old, male, happily married with one son.
Happy Anniversary to all witizens and friends of Wirtland! Prosperity and freedom to you and your families! Viva Wirtland!